Awards
I was honored to win two awards from the National Federation of State Poetry Societies contest. Chosen in the top 150 from more than 7,853 entries from across the continent, I was truly humbled. The chosen poems are published in
Encore Prize Poems 2017
available on Amazon.
​News Articles
I have recently began writing articles for a local newspaper, the
St. Clair News-Aegis
. Click
here
if you would like to read any articles. I am truly honored to be given the opportunity to write beyond the poetry, to expand my writing skills, and continue to share with the public.
New Projects
I am currently working on my second poetry collection, "Letters on a Napkin" and a poetry and photo chapbook, "Nature Reclaims." Please check back for updates. Thank you so much for your continued support!
The First Year
I cannot believe it has been a whole year since I published my first book, "Cluttered Thoughts: A Poetry Collection." It has been quite an incredible journey and learning experience. I never thought I would have my words available to the entire world or be able to actually see all of those scraps of paper bound together in print. It still amazes me that I can type my name or title of my book into Amazon.com and there it is. It is such a humbling and overwhelming feeling of accomplishment.
I would like to sincerely thank each and every one of you who have shared this journey with me, that read and share my words, and that inspire me to write even more. I am currently working on my second collection of poetry, mostly written within this past year in which my love of poetry was rekindled. Thank you for allowing me to share with you.

Sincerely,

Urainah Glidewell
Writers Anonymous
Mid-Winter Writer's Conference


A Night of Poetry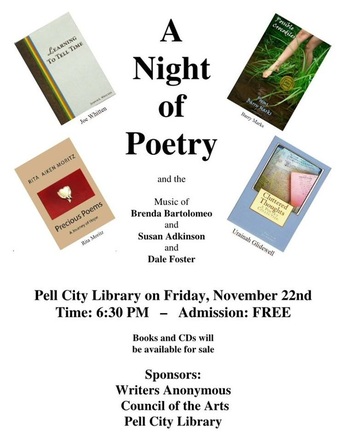 I have been invited to speak at my first official poetry reading. It is an honor and privilege to be a part of such a prolific group of poets. I am humbled to have this opportunity, even though I have always been better at writing poetry than orating it. If you are in the area, we would love to have you. Thank you for your continued support and encouragement!
Featured Poets:
JOE WHITTEN: Author of Learning to Tell Time
Joseph L. Whitten, who likes to be called Joe, was born in Bryant, AL, a Jackson County farm community on Sand Mountain. The music of that mountain pulses in his blood and finds voice in his poems.
When Joe arrived in Odenville, AL, in 1961 to teach at St. Clair County High School, he found a place to call home. For a number of years, he and his wife, Gail, taught across the hall from each other. Gail retired in 1999 and Joe in 2000. Gail was a vibrant cancer survivor for four years and three months but succumbed to the disease in 2010. He continues to live in Odenville in a 1904 house they called home for thirty-six years.
Joe is a member of the Alabama Writers' Conclave and the Alabama State Poetry Society. In the poetry society he has served as treasurer, contest chair, and president. The society named him Poet of the Year in 2000.
In addition to his published poetry, Joe has also produced a number of St. Clair County local history books. These include history of Odenville, St. Clair County High School, and brief histories of several churches. For the genealogy researchers, he has compiled to volumes of marriage, birth and death notices copied from newspapers 1873 to 1939.
RITA AIKEN MORITZ: Author of Precious Poems: A Journey of Hope
Rita Moritz began writing poetry as a child. Her writing credits include
The Grapevine
, a Christian quarterly,
Indeed Magazine
,
The Greenville Standard
, and
Educational Leadership Journal
. Her poetry has also won several awards. Prior to her retirement, Rita taught English and business at a Christian school and worked for an educational association. She currently teaches part time in Alabama's Court Referral Program. Ms. Moritz has participated in "Poets and Painters" in Virginia and has appeared as a featured poet on the Fairfax Cable Channel 10 television production "Poetic Expressions." She is a member of the
Alabama State Poetry Society
,
Writers Anonymous
, and the Council of the Arts of St. Clair County. She has brought a "Day of Poetry" to some of Alabama's schools and continues to challenge and encourage students to write. She has recently published a book of her poetry,
Precious Poems: A Journey of Hope
, and is currently working on a non-fiction book entitled
Precious Prodigal
and has a
blog
by that same name. She and her husband Harry live in Pell City.
BARRY MARKS: Author of Possible Crocodiles
Barry Marks is a Birmingham attorney whose poetry, fiction, articles and essays have been published in nearly 100 journals, magazines and periodicals over the last 30 years. Mr. Marks was 1998 Alabama State Poetry Society Poet of the Year and his chapbook,
There is Nothing Oppressive as a Good Man
, won the Society's 2003 Morris Chapbook Competition. His full-length collection,
Possible Crocodiles
, won the Society's Book of the Year Award in 2010. A member of the Big Table Poets, his work is featured in that group's anthologies, Poems from the Big Table and Einstein at the Odeon Cafe. He is a past president of the
Alabama State Poetry Society
and a former Board member of the Alabama Writer's Conclave.
URAINAH GLIDEWELL: Author of Cluttered Thoughts: A Poetry Collection
Urainah Green Glidewell was born in Alabama and moved around the United States extensively during her childhood, a different state, sometimes more, every year of her life until she was fourteen. She has lived in Alabama, Alaska, Arizona, Florida, Hawaii, Montana, South Carolina, Tennessee, Texas, and Wisconsin. She graduated with honors from Huffman High School in Birmingham in 1996. She worked her way through college, and graduated Magna Cum Laude with a degree in Marketing. She currently lives in Pell City, Alabama with her husband of almost 13 years and is a stay at home mom to three young, rambunctious daughters.
She has been writing poetry since adolescence, and her first book,
Cluttered Thoughts: A Poetry Collection
was self-published in May 2013. She is a member of
Writers Anonymous
, the
Alabama State Poetry Society
, and attends New Life Assembly of God in Pell City. She is inspired by everything: daily life, emotions, nature, faith, family, and the writing of so many talented poets that she aspires to be.
---